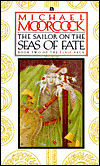 Genre
Fantasy
Publisher
Ace
Date Published
1976
Review Posted on
9/21/2006
Reviewer Rating

The Sailor on the Seas of Fate written by Michael Moorcock
Reviewed by S C Bryce

If you've read this book, why not
---
"The Sailor on the Seas of Fate" is the second in Michael Moorcock's incomparable "Elric Saga," one of the great classics of high fantasy, dark fantasy, and sword & sorcery. Originally written as pulp serials, "The Sailor on the Seas of Fate" is divided into three sections. These stories are less connected and less devoted to the evolution of Elric's character.

"Sailing to the Future" examines Moorcock's multiverse theory, one of the hallmarks of his fiction. Here, Elric learns that he is but one incarnation of the Eternal Champion, although he is given only a taste of what that means. He joins three incarnations from other worlds (Corum, Hawkmoon, and Erekosd, all of whom appear repeatedly in Moorcock's works, including having their own novels), in a bizarre and psychedelic battle against two alien sorcerers.

In "Sailing to the Present," misadventure leads ELric to Count Smiorgan Baldhead of the Purple Towns, whose ship was attacked and looted by pirates. His passenger, found hiding in the wreckage, is hunted by an ancient relative of Elric. This is an inventive fairytale of ghosts, the living dead and reincarnation; love and cruelty; betrayals and vengeance.

"Sailing to the Past," Elric goes on an archeological quest with a famous adventurer who has discovered an ancient map revealing the location of the semi-mythical jungle city from which Melniboneans came. Retracing the steps of the Melniboneans' origination causes Elric to wonder how they changed from the simple people of R'lin K'ren A'a into the complex and malicious people of the Dragon Isle. "Sailing to the Past" also returns to some of the larger themes of the saga: Will Elric become one of "the wickedest of Melnibone's many wicked rulers" by wielding Stormbringer? Will the sentient sword be his master? Or will Elric be, as he says, the master of the sword? Does Elric have any free will, or is his every action pre-ordained by Fate or pre-orchestrated by the gods? To what end?

The book is not without it faults: Moorcock glosses over some of the more interesting features of his world, some fights are given short shrift while others linger over-long, Elric too often relies on others (whether his vampiric runesword, supernatural allies, or gods) to extricate him from danger, and the multiverse theory leads to unnecessary complications. Still, for its importance in the genre, creativity, and pace, I rate it an 8 out of 10.
Amazon Search Results for The Sailor on the Seas of Fate Michael Moorcock